Ensure your gutters are performing at their highest level.
Gutter cleaning and repair services often take a backseat to other more important service repairs in your home or business. If this seasonal task is forgotten it can lead to many expensive, unnecessary major home repairs. Prevent this from happening to you by scheduling regular cleaning and repair of your rain gutters with one of our skilled, reliable technicians. Extend the life and integrity of your home with gutter cleaning and repair services from Gutter Gurus, we guarantee you will be satisfied!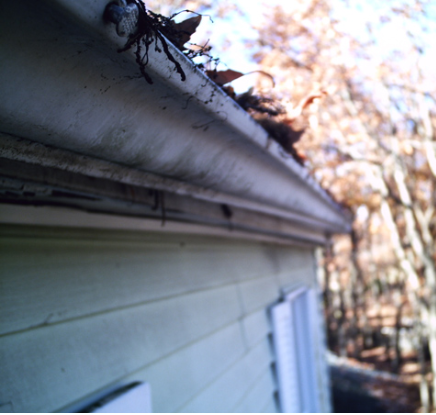 Regular gutter maintenance can prevent an array of unpleasant damages to your home:
Gutter Leaking– Even when there is no clog, your gutters can still potentially leak and cause costly damage to your home. This is why checking your gutters are as important as cleaning them
Roof Leaking– If your gutter system isn't draining water from the top of your roof, it will compromise its integrity. This will cause sections of your roof to give way and start leaking into your home
Basement Leaking– When rainwater isn't diverted sufficiently from your household, it can accumulate at your foundation and leak into your basement
Insects– Bugs are usually drawn to moist areas, so if your gutters aren't working correctly it could attract a multitude of insects to your house. It's important to make sure you gutters stay dry when it's not raining so as to avoid these infestations
Rotting– Any back up from your gutter system will cause water to come in contact with parts of your house that it's not meant to. Any wood paneling or siding will be partial to rot if constantly exposed to rainwater that isn't being properly channeled.
Gutter Gurus are professionally trained to handle any maintenance or repair issue regarding your gutter system. Whether you want to clear out any clogged debris or ensure your gutters aren't leaking, we'll be able to provide the exact service you need. Contact us now to set up an appointment! PA: 610-971-9715 NJ: 856-428-1299