Are your downspouts doing their part in facilitating water flow?
Downspouts are pipes that run from the gutter vertically down the side of the house. There is a hole in the top that connects to the gutter channel, while the other end bends out at the bottom. This allows the water to flow away from the home as it exits the downspout. Poorly installed or designed downspouts can cause water to accumulate around the base of the home or back up into the gutter system. This can lead to serious roof damage, as well as damage to the siding, fascia boards and foundation, and even cause flooding in the basement and interior harm.
Maintaining a home free of water damage is vital.
Properly functioning downspouts are key to maintaining a home free of water damage. As with seamless gutters, it is important to have a high-functioning system that works with your home's aesthetics. With custom color matching, our gutters and downspouts create curb appeal. We also offer downspout cleaning to keep your gutter maintenance costs to a minimum.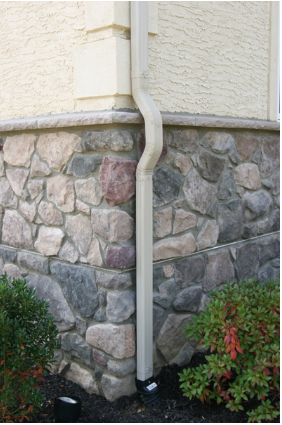 Don't let a faulty downspout affect the performance of your gutter system! Gutter Gurus are licensed technicians that specialize in the repair and maintenance of all parts of your gutter system. We're able to install, unclog, or repair any aspect. Call now in order to ensure your downspout is working as efficiently as possible! PA: (610) 971-9715 NJ: (856) 428-1299